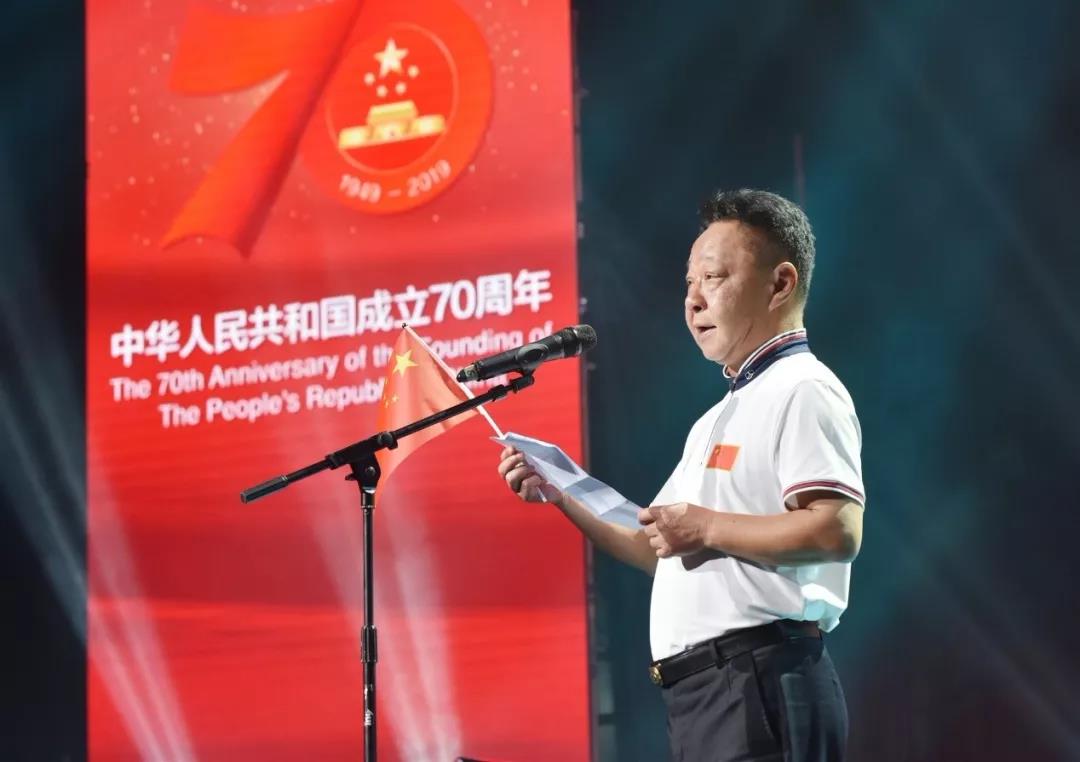 Colleagues, friends, ladies and gentlemen,
Greetings to you all! The dawn of the New Year is coming, and we'll have a fresh start for the year ahead. As we usher in 2020, on behalf of the board of directors and the management of CIMC Group, I would like to extend my New Year wishes to CIMC employees worldwide.
In 2019, due to trade frictions among major economies, the global economic and trading activities dropped, and the world's container trading and China's export grew at a slow pace. In this grave situation, CIMC achieved robust growth thanks to its industrial transformation and upgrading efforts over the years, and a number of businesses made exceptional performances.
CIMC Container's new-generation production facility was put into formal operation at Fenggang, Dongguan. As the first production line built after the launch of "Flying Dragon Programme", it is the benchmark of technical excellence in the industry, as it embraces the cutting-edge technologies and has made positive explorations in green manufacturing, environmental protection, health and safety. The incremental business of special-purpose containers continue to rise at a faster speed, with compound annual growth rate reaching 34 percent. In particular, as 5G technologies and devices gradually become an inseparable part of our life, the data center container business embraced explosive growth in 2019, with the annual revenue rising from not more than 10 million yuan to over 300 million yuan. In the meantime, the deeper and closer cooperation with the modular building company enables CIMC Container to extend its business to all links of the value chain.
CIMC Vehicles formally went public at Hong Kong Exchanges and Clearing Limited (HKEX) and became the first listed semitrailer manufacturing enterprises on the HKEX. This has made further capital operations possible and brought much more financial opportunities, and encouraged the segment to continuously improve its international management ability and increase the brand premium. In 2019, CIMC Vehicles took the lead to organize China Trailer High Quality Development Joint Conference so as to create an ecological cycle necessary for the healthy development of domestic trailer industry and promote the compliance and high-quality development of the industry.
CIMC Enric took solid steps forward in clean energy business operations. It played an active part in the implementation of National Yangtze River Green Development Plan, and cooperated with China Merchants Group and China National Offshore Oil Corporation to promote the eco-friendly program to fuel shippers with natural gas on the Yangtze River. In 2019, it secured orders for 200 sets of hydrogen energy and air supply systems for the first time. CIMC SOE began the building of a 200,000-m3 LNG bunkering vessel, the largest of its kind in the world. CIMC Sanctum specially developed and manufactured LNG tank containers to serve for Indonesia's first large-scale island-island gas transportation and provided the customer with all solutions to the design and manufacture of the gas supply system of the 9000Nm3/h gas station. As for food equipment business, CIMC Enric purchased the good assets of craft beer business from Diversified Metal Engineering Group, a Canadian brewing machine maker, in an attempt to improve its global beer brewing business layout.
In 2019, CIMC Logistics continued to rank first in terms of container handling quantity, its intermodal transportation with the ship owner containers exceeded 30,000 TEU, and the imported fruit cold chain logistics business went smoothly. The segment accessed to 15 railway stations, sites and container repair outlets, opened and operated 15 international and national block container trains with the cumulative container handling quantity reaching 25,000 TEU. CIMC Kaitong Logistics innovatively established the channel of water-railway transportation of bulk cargo in containers to ensure the successfully transport imported cargo grain to Sichuan Province. Zhenhua Logistics contributed to the successful maiden voyage of Tiankun – the largest heavy-duty and self-propelled cutter suction dredger in Asia, and to the successful delivery of P70, the world's largest-tonnage EPSO unit. In addition, CIMC Logistics strengthened cooperation with ship agencies. In particular, its strategic cooperation with CMA to establish a depot at Tianjin was successfully implemented.
CIMC Offshore creatively designed and delivered China's first deepsea intelligent bottom-supported net cage "Long Whale One", taking domestic marine farming business from coastal water to deep sea. As an offshore platform, "CIMC Tairui" enabled China's first-ever successful offshore launch of rockets as the offshore. CIMC Raffles delivered P71 FPSO to Petrobras, representing that the company has achieved new breakthroughs in the offshore oil and gas production platforms. At the 2019 China Marine Economy Expo, CIMC exhibited Blue Whale One and other equipment of strategic importance to the nation and provided solutions for building Shenzhen into a global center of marine-related industries. With the establishment of CIMC Offshore New Growth Driver R&D Center and CIMC Offshore Oil and Gas R&D Center at Yantai, CIMC Offshore embarked on the study of the world's most advanced marine technologies.
CIMC Financing Leasing completed the first overseas syndicated loan of US$ 365 million. The innovative expansion of leasing business and the widening of US dollar financing channels abroad are of significant importance for improving the Group's financing ability on overseas markets and supporting overseas programs settled in US dollars. CIMC Finance was granted approval by the State Administration of Foreign Exchange Shenzhen Branch to carry out centralized operation and management of cross-border funds and took the Group's cross-border fund management ability to a new level. The establishment of 1.6 Billion Yuan CIMC-ABC Special Investment Fund provided useful indications for CIMC to upgrade from asset management to capital management.
CIMC Airport Facilities did a good job in 2019: it designed and manufactured the world's first unmanned intelligent jet boarding bridges, and the products were put into formal operation at Netherlands. It won the order worth 518.5 million yuan for the provision of boarding bridges and bridge-mounted air conditioners for the terminals of Chengdu Tianfu International Airport, and this was the largest ever single order on domestic boarding bridge market; it received the largest-ever single order worth 360 million yuan from Indian central government to supply a baggage handling system (BHS) for the new terminal of Chennai International Airport and became the country's largest BHS supplier; it won the bid for the construction of mechanical and intelligent parking garages at Shenzhen Futian Xiasha Bus Terminal; it provided high-quality equipment for Beijing Daxing International Airport and helped with the successful operation of China's new mega airport. With the finalization of the deal to buy 60 percent stake in Shenyang Jietong and the deal to buy out Shanghai Jindun, CIMC Airport Facilities basically extended its firefighting equipment business nationwide. Jirong aircraft ground air conditioners ranked first in China in terms of sales volume. Recently, it won the order from Belgrade Airport and would be used in batches for the first time in a major airport in Europe.
Sticking to the development strategy that "the light asset business and heavy asset business are the two wings of the segment, and they should be given equal importance", CIMC Industry & City brought its capital scale and business revenue to a record high. Its industry-city complexes, such as Qianhai Program, Shanghai Baoshan Program and Shekou Taiziwan Program, were successively implemented, while the industrial parks, such as Songshanhu CIMC Wise Valley, Shunde CIMC Wise Valley, Guangming CIMC Wise Park and Shiyan CIMC Creation Valley, did pretty well in attracting potential tenants.
The formal launch of U+ vehicle model of C&C Trucks represented that the company possessed leading technology in the industry, and in particular, gained a head start in the high-end heavy-duty truck segment.
In Australia, as Ibis Style Hotel, East Perth WA, a 17-floor hotel with preinstalled glass curtain walls built by CIMC MBS on an EPC agreement, formally opened to the public, the company showed to potential customers across the world that it was fully capable of building high-floor hotels. In Hong Kong, as CIMC MBS won the bid for and started the building of InnoCell, the first permanent modular building in Hong Kong, the company take a solid step forward in Guangdong-Hong Kong-Macao Greater Bay Area. In Xiong'an, CIMC MBS successfully completed the construction of Civic Service Center, and the project was later awarded China Construction Engineering Luban Prize. In 2019, the Technical Specification for Box Type Steel Structure with Prefabricated Modular, an industrial standard edited by the company, was approved to be published nationwide and filled in the gaps of the industry. In particular, Shenzhen CIMC Architecture Design & Research was established in Shenzhen to promote the development of China's industrialized buildings.
In 2019, with the incubation of 11 internal "Double Creation" programs and the investment in one external program, CIMC continuously improved its influence in innovation and start-up field.
In 2019, CIMC formally entered into Qianhai Land Preparation Agreement and Land Use Right Transference Agreement with competent government authorities. This will not only accelerate the development and construction of Qianhai Shekou Free Trade Zone, but also enable CIMC to take advantage of the opportunities in the development, upgrading and transformation of Shenzhen and play an active part in building Shenzhen into a pilot socialist zone with Chinese characteristics.
We got good new at the end of the year: CIMC-TianDa won about 200 million yuan orders from two major airports in Europe. In particular, the 152 million yuan order placed by Frankfurt Airport is Germany's largest-ever order for boarding bridges in the last decade, representing that our technical excellence and product quality won great recognition from the industry. And this is the best gift for Chinese New Year and for Made-in-China.
In 2019, we got authoritative certifications for 7 new world champions, and this has further enhanced our determination and confidence in creating products at the world champion level. The Ministry of Industry and Information Technology rated our cargo transportation trailers and semitrailers as a Niche Champion Product in Manufacturing Sector and rated Qingdao CIMC Special Reefer Co., Ltd as a Niche Champion Enterprise in Manufacturing Sector. The boarding bridges, reefers, tank containers and semitrailers were rated as Simon Hidden Champion Products, and Ziegler was rated as Simon Hidden Champion Enterprise. In 2019, CIMC ranked No. 52 in China's Top 100 Enterprises with Higher Brand Development Index, a list released by People's Daily, showing that the "New CIMC" brand planning achievement was recognized by competent authorities. Personally, I was awarded the honorary titles of the "2018 Shenzhen Business Leader that Influences China in" and the "2019 Forbes Leader Excelling in the Global Operation of Chinese Enterprise".
Looking back at what CIMC has achieved over the decades and what I have accomplished over the years, I am grateful for the leadership of the Communist Party of China and the central government. I am also grateful for the support from leaders, customers, partners and general public. And I am grateful for the concerted efforts that have been made and intensified by 50,000 CIMC employees working at different parts of this world!
Thank you!
The year of 2019 was exceptional, as it marked the 70th anniversary of the founding of the People's Republic of China. We specially shot the music video for the song Ode to the Motherland. On September 21, we held a chorus competition to celebrate the 70th birthday of China, to mark the 37th anniversary of its formal production at Shenzhen Poly Theater, and to show the deep love for the country and the great pride in the achievements.
That night, I specially wore a T-shirt with a pattern of Chinese flag on the chest. Holding a national flag in my hand, I came onto a stage and delivered a speech, saying that "over the past 37 years, CIMC lived up to the expectations of the Party and the nation and made best use of opportunities arising in the reform and opening-up practices; over the past 37 years, CIMC grew from a small container plant to a 100 billion yuan multinational group with diverse businesses; over the past 37 years, CIMC demonstrated to the rest of the world the power and strength of "Made in China". We independently developed and designed the Blue Whale One, an industrial masterpiece of strategic importance that helped with the country's trial mining of flammable ice at South China Sea, and its outstanding performance was highly praised in the congratulatory messages from the CPC central committee and the State Council. We built modular offices and buildings at Xiong'an and Qianhai with the amazing 'CIMC Speed'. We provided one-stop exit-entry intelligent traffic surveillance solutions for Hong Kong–Zhuhai–Macau Bridge. And over the past years, CIMC created over 20 products at world champion level."
In 2020, the internal and external uncertainty will continue to build up, and there will be complicated and profound changes in national and international situations. Currently, China is moving forward in a period full of strategic opportunities, positive outlook and grave challenges. In the meantime, CIMC is in a crucial development stage. In this context, it is of great importance to clear up our doubts, make up our minds, focus on our goals, and take big strides.
The 19th National Congress of the Communist Party of China clarified that the evolution of the principal contradiction facing Chinese society represents a historic shift from the contradiction between people's rising material and cultural demands and backward social production to the contradiction between people's rising demands for better life and development's imbalances and inadequacies.
CIMC takes the manufacturing business as its core, and remains true to the mission of "providing high-quality and reliable equipment and services for logistics and energy industries, bringing in good results for shareholders and employees, and creating sustainable value for society". The most important part of our mission is how to satisfy people's rising demands for better life. Over the past 40 years, our high-quality and reliable products and services have directly and indirectly satisfied such demands, and we have received good comments and recognitions from the public for this. I believe that CIMC has entered into the period of important and strategic opportunities, and there are much more room for us to improve, grow and develop our business. I think that in the days to come, we should focus on the industries in which CIMC has advantages, the industry has weak links, and the people have new demands.
In 2020, our annual business operation should be carried out by focusing on the development of main businesses and seeking quality growth. We should stick to the strategic and business focuses, continuously optimize our business structures and product portfolios, and focus on key industries with high quality and potential. We should work hard to improve the operating efficiency and quality, and improve profit-making ability, return on investment and efficiency per capita. And we should make proper and appropriate arrangements and preparation for accessing strategic and emerging businesses to ensure the sustainable development of the Group.
On this basis, we should continuously develop the middle- and long-term ability. We should center on the customer's demands, respond to and satisfy the demands of markets and customers, continuously promote the intelligent manufacturing, upgrading of products and green development, create more products at world champion level, and improve the core and essential competitiveness of products and services. We should improve the basic operating efficiency of the Group and different segments by establishing the informatization systems, carrying out ONE Lean Management and integrating informatization with integration. We should pay attention to major and serious risks during the improvement of operation and organization efficiency, strengthen the construction of risk database and the promotion and application of valuable experiences and good results achieved in the implementation of risk pilot programs, and satisfactorily perform internal control and thorough risk management. We should continuously promote the construction of HSE systems of the Group and enterprises at different levels, strengthen HSE risk management and control, and gradually improve green development level. We should continuously promote the innovations and business start-ups, and through internal and external innovation and start-up incubation approaches, continuously access to emerging businesses with great prospects, advanced scientific and technological features and in the early development stage, and establish platforms necessary for the sustainable development of abilities.
Looking far into the future, we should be ambitious. We should bear in mind the important instructions given by General Secretary of the Communist Party of China Central Committee Xi Jinping during his inspection of CIMC Raffles and further strengthen the belief in more independent innovation efforts, more high-quality development fruits. CIMC should continue hold on the leadership of the Party, and under the guidance of Xi Jinping Thought on Socialism with Chinese Characteristics for a New Era, remain true to our original aspiration and keep our mission firmly in mind, continue with the manufacturing effort, serve the country with industrial development, and contribute to the national rejuvenation. In the great era full of opportunities, we should continue to work hard to achieve our ideal and value, and realize the CIMC Dream and the Chinese Dream.
As we ring in the New Year, I wish you great health, happiness and prosperity.
Thank you!